Happy Earth Day! This year, we asked some of our authors, speakers, farmers and friends for book recommendations. We wanted to know what book they felt was a "must-read" for anyone who wanted to celebrate Earth Day. You can find many of these titles in the Earth Day Collection at the Acres U.S.A. Bookstore.
Keep reading to see all our recommendations, or jump to a person here:
Gabe Brown
Book recommendation: Nourishment by Dr. Fred Provenza
My book of choice would be Nourishment by Dr. Fred Provenza. I feel that Nourishment should be required reading for not only ranchers but consumers as well. As herbivores selectively graze to nourish themselves, there is a real lesson to be learned as to how we should nourish our bodies. Human health is directly related to the biodiversity of our environment.
Learn more
Paul Dorrance
Book recommendation: Last Child in the Woods – Saving our Children from Nature-Deficit Disorder by Richard Louv
As the father of children ages 8, 10, and 12, I find myself increasingly concerned with their generation's attraction to electronics and loss of connection to the natural world around them, to their food, to their real relationships, to the literal ground beneath their feet. Last Child in the Woods is the perfect blend of fact, challenge, vision, warning, and reassurance that an alternative path exists. I desperately want my children to grow up intimately knowing nature and, especially on Earth Day, am grateful to be reminded of that high calling.
Learn more
Doug Fine
Book recommendation: The River Why by David James Duncan
The River Why by David James Duncan is one of my favorite books not just about the importance of wild ecosystems (which I think of as the Earth has bestowed) but the impact on humans of living in one. Ostensibly a love story between an intense fly fisherman and an even more intense fly fisherwoman (she swims au naturel while fishing), the book hits home for me about what living a life on Planet Earth feels like. Intense and present with a lot of love and good smells. In my own life on the Funky Butte Ranch, the local bee drone provides the morning sound track. This is where my sanity resides and why, for me, every day is Earth Day.
Learn more
Jesse Frost
Book recommendation: The Insect Crisis by Oliver Milman
Through breathless reporting, Milman not only demonstrates declining insect populations and our dependence on insects, but also highlights how, in some ways, our agricultural practices are inadvertently selecting for the insects we want the least. This is a book that every farmer should read.
Learn more
Gerry Gillespie
Book Recommendations: The Waste Between Our Ears by Gerry Gillespie and For the Love of Soil by Nicole Masters
My book recommendations for Earth Day reading relate to the importance of taking an approach to food production which manages to join the two ends of the food process – the consumer and the producer. The basis of all human economy is the soil. The soil is our mother. Everything we are, everything we will ever be is based on what we eat. The survival of our children and their children is based on the quality and protection of our soils, yet one of the great divisions, which exist in community today, is the disconnect between the city consumer and the farmer as the producer of food.
I feel that the two books which deal with these subjects comprehensively are my own book The Waste Between our Ears and For The Love of Soil by New Zealand born agricultural ecologist Nicole Masters. These two books together underpin the importance of this circular relationship and how and why we might rebuild it.
Learn More:
Reginaldo Haslett-Marroquín
Book Recommendation: Healing Grounds by Liz Carlisle
It is very inspiring to see this book by Liz Carlisle which brings out so much needed background and deep thinking that needs to go into any conversation related to #regenerativeagriculture. The #appropriation of #indigenousknowledge is rampant in this sector. The problem with allowing this pattern to continue is that it diminishes and squanders the amazing promise of ancestral regenerative systems that we so badly need to implement with integrity in order to move the needle towards a regenerative agriculture system.
Whitewashing #regenerative is counter to the very foundation of the concept of regeneration. This is a way of thinking, of relating to the land and other living systems, a process that results in governance, ownership, and control structures to ensure that the system serves everyone, and many other layers of regenerative ways of being and knowing not currently very interesting to the institutions and corporations rushing to colonize this space.
Whitewashing these central tenets of a regenerative agriculture design is so damaging and counter to achieving the actual regeneration of the planet. I am so happy that Liz Carlisle touched on all of these critical points in her book and outlines in her interviews with such eloquence and command of the issues at hand. I will be reading this a few times and internalizing this information so we can improve our capacity to #indigenize our ways as we build a #regenerativepoultry system at a scale that can make a significant difference.
Learn More
André Leu
Book recommendation: Growing Life by André Leu
Growing Life is a book about a major paradigm shift in agriculture – from the current industrial system based on fossil fuels and toxic chemicals that is degenerating our planet through climate change, widespread environmental destruction and chronic disease to the new paradigm of regenerative agriculture that is based on using photosynthesis – the ultimate solar energy collector – and biodiverse biology to regenerate our soils, climate, ecosystems, health, societies and our democracies.
Learn more
Bob Quinn
Book recommendation: Grain By Grain (A quest to revive ancient wheat, rural jobs and healthy food) by Bob Quinn and Liz Carlisle
If you are looking for a book to read to commemorate Earth Day this year, why not check out Grain By Grain (A quest to revive ancient wheat, rural jobs and healthy food) by Bob Quinn and Liz Carlisle. It was my first book and a labor of love as it is the story of my quest to live more in harmony with the earth. It starts with the conversion of my farm from raising commodities with chemicals to producing high nutrient dense food using a regenerative certified organic system. Many other lessons I learned regarding the high cost of cheap food are sprinkled throughout the book. It is a message of hope, filled with ideas and solutions to the current situation we see around us of the decline in the health of rural America, the health of our planet and the health of our people. We can do better and together, we will!!! Happy Earth Day – your friend in Montana – Bob
Learn more
Brendon Rockey and Lauren Krizansky
Book Recommendation: Managing Pasture by Dale Strickland
Managing Pasture by Dale Strickler provides anyone managing pasture and livestock tools and insight into how and why these systems work. He proves grasslands are profitable and good for the Earth.
Learn More:
Gary Zimmer
Book Recommendations: Malabar Farm by Anneliese Abbott, Growing Life by André Leu and Mycorrhizal Planet by Michael Phillips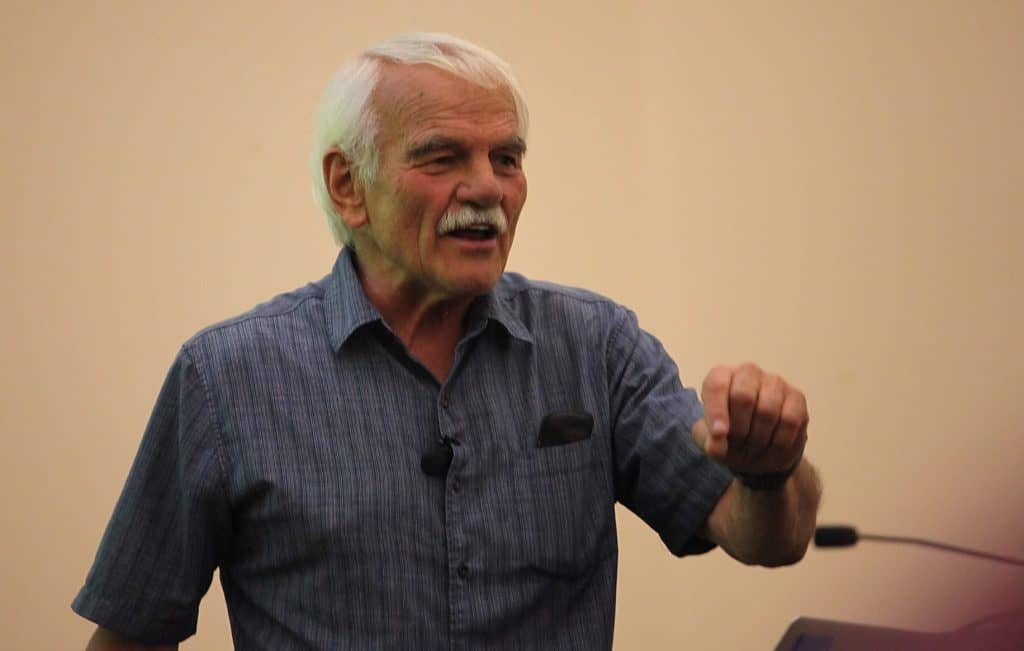 It's always difficult picking out just one book – different books different focus. It depends on my interest. If I want a good background historical book from 70 years ago, I would select the new book Malabar Farm by Anneliese Abbott. Regenerative/Biological farming is not new. If I want to find more information on the New movement Regenerative Farming, I would get a copy of André Leu's new book Growing Life – it gives a good solid outline of what's needed to Regenerate land. If I wanted to get a better understanding of soils and how they work and the value of fungi, I'd get Michael Phillips' book Mycorrhizal Planet. If you have a lot of time to read, buy all three; it was an educational, pleasurable event for having recently read them all.
Leilani Zimmer-Durand, who is also a frequent speaker at Acres U.S.A. events
Learn More:
Leilani Zimmer-Durand
My book recommendations are:
Learn More:
Read: The Biological Farmer by Gary Zimmer and Leilani Zimmer-Durand
Read: Advancing Biological Farming by Gary Zimmer and Leilani Zimmer-Durand
Learn about the August in-field event at Otter Creek Organic Farm – the 2022 On-Farm Intensive with Zimmer Ag here.
Savory Institute, UVE Hub
Jackie Eshelman of the UVE Hub has several great book recommendations:
Wild Like Flowers by Daniel Firth Griffith. Daniel is a regenerative farmer, rancher, and philosopher who uses his powers of observation to grow closer to and better understand the wild gifts of our relationship to land. Through slowing down, listening to what the ecosystem tells us, and trusting the interconnected relationships that surround us, Daniel shares his insights into the potential that wildness adds to ecosystem regeneration.
Think Again by Adam Grant. This book is not about agriculture, and I highly recommend that any change-maker in agriculture read it anyway! Farming and ranching can often be steeped in tradition regardless of the outcomes, and it takes a real shift in mindset to make the leap of changing the way things have always been done. Adam teaches us that asking good questions in a way that gets people to change their own minds is the most meaningful way to shift paradigms. Even when we think we know the answer, Adam encourages us to continue to think again.
For the Love of Soil by Nicole Masters. This book may just change the way you think about the ground you stand on. Nicole shares her experiences with land stewards as they work together to triage soil health and the limiting factors to healthy resilient ecosystems. She shares her brilliant insights into the synergies of soil microbes and mineral nutrients and what weeds and diseases are communicating about the health of the ecosystem. Are you a land steward who recognizes that change is needed yet doesn't know where to start? This book gives anyone an entry point to begin regeneration of healthy, productive and profitable landscapes.
RFSI Staff
Regenerative Forum Systems Investment works across diverse groups of funders and stakeholders to mobilize more capital for regenerative food and agriculture projects. Learn more about them here.
Anthony Corsaro, Director of Business Development
Book Recommendation: Dirt to Soil by Gabe Brown
I gotta go with Dirt to Soil by Gabe Brown. This book has been so important in spurring forward the regenerative agriculture movement, and I really appreciate how I could ready and understand it well as a non-farmer. It is a must ready and demonstrates so many important concepts about Mother Earth and natural systems.
Rachel Ringle, Events & Marketing Project Manager
Book Recommendation: The Land Remains: A Midwestern Perspective on Our Past and Future by Neil Hamilton
Neil Hamilton, former Director of the Drake Agricultural Law Center, has been a long-time voice of unbiased information about agriculture in Iowa and beyond. I grew up on a small farm in Iowa and have seen small farms disappearing and water quality going down the drain. There is also reason to be hopeful and Hamilton lays out his ideas for what needs to be done to improve and expand conservation practices to ensure the future health of our land and soil.
Learn More:
Acres U.S.A. Staff Recommendations
Jessica Castleberry, Customer Service
Book Recommendation: Wilding by Isabella Tree
An inspirational portrayal of the power of nature to grow, recover, and thrive, my Earth Day recommendation is Wilding: Returning Nature to Our Farm by Isabella Tree. It tells the story of an English family who, after seeing the ravaging effects conventional agriculture was taking on their country estate, chose to "rewild" their land. A conservation strategy that reestablishes wilderness by letting nature grow freely, rewilding has turned the estate into a much-needed haven in the United Kingdom for native plants and wildlife. Elegantly fusing personal narrative with historical and biological information, Isabella offers a deeply educational experience while painting an intimate portrait of her family's personal journey toward a new understanding of and relationship with nature. Filled with many applicable lessons, this narrative acts as a powerful reminder of the respect and responsibility we owe the natural world.
Sarah Day Levesque, GM of Events & Media
Book Recommendation: The Fate of Food by Amanda Little
Through travel, interviews, personal experimentation and reflection, Amanda Little examines how our food system will evolve to address the diverse challenges facing it. The tricky part is finding a healthy path forward that balances efforts to innovate with ecological and social priorities. Thought-provoking read!
Barbara Guzman, Shipping
Book Recommendation: No Dig Organic Home & Garden by Charles Dowding & Stephanie Hafferty
It helps you learn to enrich the soil and gives ideas for increasing self-reliance, saving money and enjoying the pleasure of growing your own food.
Hannah Fields, Sales Administrator
Book recommendation: The Waste Between Our Ears by Gerry Gillespie
If I had to recommend one book for Earth Day, I'd probably go with The Waste Between Our Ears by Gerry Gillespie. Gerry makes the case for building a sustainable society and regenerating the Earth as a community. Human beings are very wasteful, we throw so much food and reusable materials away every year and our current infrastructure doesn't give us many alternatives. Gerry brings up an important point that many people overlook: we cannot restore our world if we do not shift the way we live as a society and how we deal with our waste.
Ryan Slabaugh, GM and Publisher
Book Recommendation: Silent Spring by Rachel Carson
I wanted to pick a different book than I normally recommend on Earth Day, and I really did try, but I still go back to Silent Spring by Rachel Carson. It's a reminder to me that when we step outdoors, we are stepping out of our default mode and into an ecosystem. Our brain changes. Suddenly we have the freedom to think differently. When Rachel Carson stepped outside in 1964 and just listened, she noticed birds and insects were gone, and took on the challenge to pull the world outdoors with her to share the same experience and ask, "What have we done?" Rachel died only a couple of years after publishing the book, and a few years before Earth Day was founded, but I like to think we are making her proud by helping farmers decrease the toxic pesticides used on our farms and ranches.
Side note: This brings to mind another book I almost recommended this year, called This is Water: Some Thoughts, Delivered on a Significant Occasion, About Living a Compassionate Life, by David Foster Wallace. It's a mindset book. In it he wrote that life is "about the real value of a real education, which has nothing to do with grades or degrees and everything to do with simple awareness — awareness of what is so real and essential, so hidden in plain sight all around us, that we have to keep reminding ourselves over and over: This is water." Wallace prefaces the statement by saying that it is uniquely a human condition to replace what is simple and important — like growing food in harmony with nature — with what is complicated and temporary. I can only imagine Rachel Carson would have wholeheartedly agreed.
Jessica Smith, Digital Marketing Manager
Book Recommendation: In the Shadow of Green Man by Reginaldo Haslett-Marroquín
My recommendation this year is In the Shadow of Green Man by Reginaldo Haslett-Marroquin. This descriptive book will draw you in right away. The combination of stories from Regi's own life with tales of the Green Man weave a narrative of connection to and learning from the land in a way often lost in these modern days. It's a book that will stick with you beyond its final pages.