Starting in 1994, Acres U.S.A. began awarding the Eco-Ag Achievement award annually to a true pioneer in our industry. The award is presented at the Eco-Ag Conference. Here are the list of winners, along with a few audio clips of popular talks they gave during the Conference.
Reginaldo Haslett-Marroquín
Reginaldo Haslett-Marroquín (2022) has been a strong leader in the movement for developing innovative poultry-centered regenerative agriculture systems around the world. He is the founder and board president of the Regenerative Agriculture Alliance, and co-founder/CEO of Tree-Range Farms. He is also a practicing regenerative farmer at Salvatierra Farms in Minnesota.
André Leu (2021) is a dedicated advocate for sustainable farming. A farmer in Australia, Leu is also the International Director of Regeneration International, an organization that promotes food, farming and land-use systems that regenerate and stabilize climate systems, the health of the planet and people.
GABE BROWN (2020), a well-respected leader in regenerative farming, stepped into the spotlight in 2020 in the film, Kiss the Ground, which featured his ranch and his pragmatic methods. He is the author of Dirt to Soil.
DR. PAUL DETTLOFF (2019) is a veterinarian and holistic livestock expert, whose books and consulting work helped create the organic dairy industry. He is the author of Dr. Paul's Guide to Raising Animals Organically.
JEFF MOYER (2018) is the CEO of Rodale Institute, and is a world-renowned authority in organic agriculture. Jeff brings a farmer's perspective and approach to issues in organic agriculture, and is a past chair of the National Organic Standards Board. He is the author of Roller-Crimper in No-Till Agriculture.
DR. VANDANA SHIVA (2017) is a scholar, environmental activist, healthy food advocate and has written more than 20 books. Born in India, she leads anti-globalization movements and advocates for local control over the food supply. She is the author of several books and is featured in many documentaries on our food supply. Here's a clip from her landmark talk in 2017.
DR. PHIL WHEELER (2016) started organic farming in 1971 and went on to start Crop Services International with his wife Louisa. Phil is co-author of The Non-Toxic Farming Handbook, and was honored for the decades innovating and teaching.
MARGARET MERRILL (2015) is a Virginia-based agricultural librarian and a long-time supporter of eco-farmers everywhere. She has volunteered at more than four decades of Acres U.S.A. conferences, and you will find her this year enthusiastically helping attendees.
RICHARD "DOC" HOLLIDAY (2014) is a holistic veterinarian who has utilized, innovated in, and taught and promoted more natural forms of animal care for a career spanning more than a half-century, long before organic farming began to be popular.
DON HUBER (2013) is a professor emeritus in botany and plant pathology, having spent the bulk of his career at Purdue University. In retirement he has tirelessly and bravely divulged the bitter truths behind widespread use of glyphosate and GMOs.
ARDEN ANDERSEN (2012) specializes in nutritional management and advises farmers to "build biology." Andersen is the author of Science in Agriculture, and he has taught a variety of classes on soil and crop management and agricultural radionics. Here's a clip from his talk in 1991 at the Eco-Ag Conference:
GARY ZIMMER (2011) was recognized for decades of tirelessly practicing, teaching and promoting effective natural farming techniques worldwide. Through his lectures and his company, many thousands of farmers have learned better methods of farming. Here's a clip from his talk on biological farming in 2003 at the Eco-Ag Conference:
JACK & ANNE LAZOR (2010) began Vermont's original organic dairy farm in 1979 and were honored for their contributions to and passion for organic agriculture. They were the founders of Butterworks Farm, which still runs successfully today.
RONNIE CUMMINS (2009) is founder and national director of the Organic Consumers Association, a group that has fought for integrity in organic products since 1988. The group has united millions of thousands of consumers around the world.
JERRY BRUNETTI (2008), eco-input innovator, teacher, researcher and author, was known for his innovative, colorful presentations tirelessly spread the message of eco-agriculture and nature's plan for health all over the world. Here's a clip from his talk in 2009 at the Eco-Ag Conference.
MALCOLM BECK (2007) composter, author and organic gardener extraordinaire, was recognized for his pioneering work in spreading bio-correct agriculture, dating from the very beginning of the postwar organic revolution. Here's a clip from his talk in 2001 at the Eco-Ag Conference: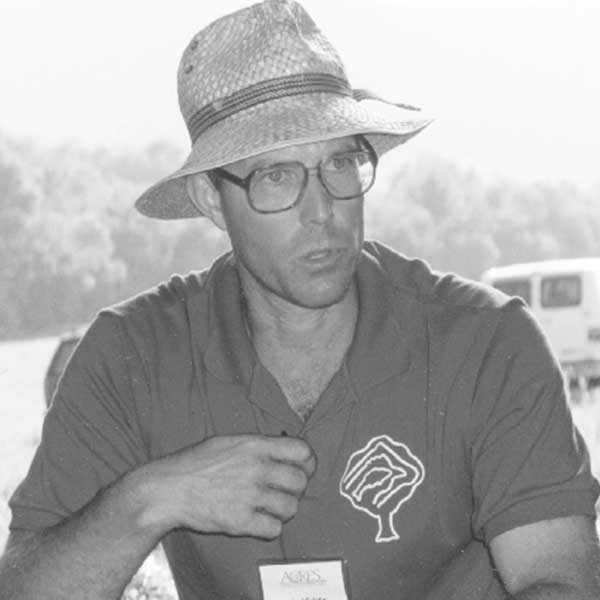 JOEL SALATIN (2006) was recognized for his tireless work in spreading the word about the benefits of eco-farming and showing old-fashioned hospitality to thousand of visitors every year at the renowned Polyface Farm in Swoope, Virginia.
BOB CANNARD (2005), a Sonoma County, California, grower, owns farms that produce such high-quality food, it inspired a revolution in food and cooking. He is a long-time organic farmer, activist and teacher.
SALLY FALLON (2004) was honored in recognition of her tireless work in the field of nutrition and its relation to health. Her work as a raw milk advocate has spawned a nationwide and increasingly successful movement here in the United States.
NEAL KINSEY (2003) was recognized for his decades of work in training and assisting farmers all over the world to establish fertile soil systems with the sustainable methods championed by William A. Albrecht. He is the author of Hands-On Agronomy. His talk with the same name was featured in 2002.
PERCY SCHMEISER (2002) received the award in recognition of his courageous battle for farmers' rights against multinational agribusinesses giant Monsanto. While farming, he specialized in growing canola, peas, mustard and wheat.
MARK PURDEY (2001), an organic farmer from Somerset, England, was recognized for his courageous and inspired work investigating the causes of Mad Cow disease and variant CJD, including successful resistance to government-mandated pesticide use.
H.W. HOSTETLER (2000) was recognized for the decades of innovation he has shown on his Illinois farm. As the founder of Prairie Hybrids, he resisted the temptation to follow the rest of the industry into GMO, and was one of the first non-GMO advocates.
DAN SKOW (1999) received the award for his lifetime of training thousands of farmers and consultants in the eco-farming methods of Reams' biological theory of ionization. Skow spoke to packed rooms for several years at Eco-Ag Conferences. Here's a sample clip from his talk at the Eco-Ag Conference in 1980.
FRED KIRSCHENMANN (1998) is among the nation's foremost advocates of sustainable agriculture, leading the movement toward organic methods we use today. He was honored for his exemplary spirit and successes in organic farming.
PHIL CALLAHAN (1997) was a longtime friend of eco-farmers and discoverer of such cutting-edge natural processes as the link between paramagnetic rock dusts and healthy soils and the communication systems of plants and insects. Here's a brief clip from his talk at the Eco-Ag Conference in 1992.
DICK & SHARON THOMPSON (1996) longtime ecological farmers, innovators and researchers, hosted thousands of visitors to their diversified farm in Boone, Iowa, and over a span of decades have addressed many more in speeches and presentations.
FLETCHER SIMS (1995) was widely considered the dean of American composters and was the earliest proponent and pioneer of feedlot manure composting. He was one of the world's foremost authorities on the subject of compost. Sims passed away in 2018. Here is a sample of his talk from the 1981 Eco-Ag Conference.
BARGYLA RATEAVER (1994) was the first to receive the award. Author of the massive compendium The Organic Method Primer, Bargyla's early leadership in organic farming helped pave the way for generations of conscientious, health-minded farmers.